Career Committee Interviews: American Studies Department Head Prof. Laura Bieger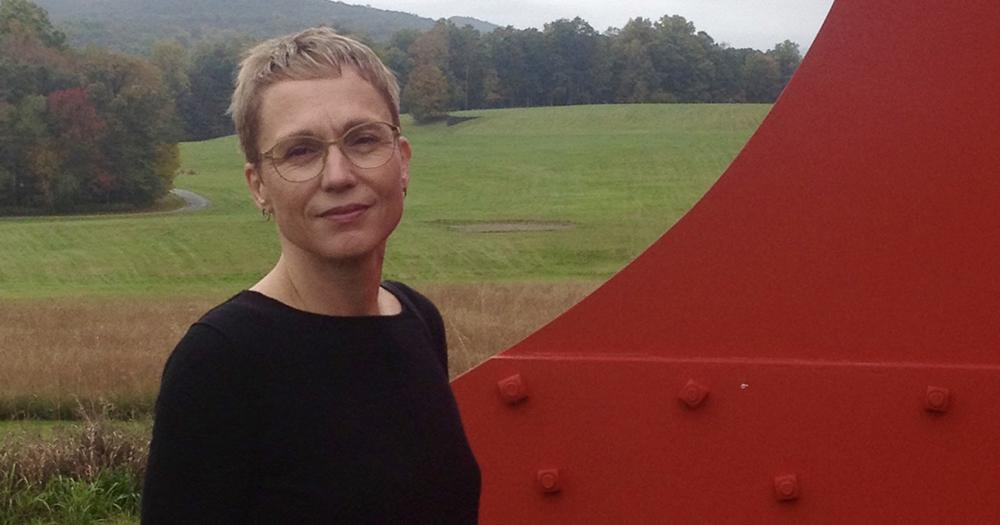 As chair of the American Studies department, we thought of Prof. Bieger being a great person to ask for a career-related interview. She has a very impressive resume, including a research fellowship and she has published two books and many articles. Lucky for us, Prof. Bieger agreed to do an online interview with us. We would like to thank professor Bieger for answering our questions and taking time for us out of her schedule!
Can you tell us a bit about yourself and your career?
Prof. Bieger: "Well, the only very concrete idea of a career path I had when I was a little child was to become a pirate" but it was not very practical and after wishing to be a pirate for a few years, she was clueless but she really enjoyed studying. "If I could keep doing that wonderful thing I would be happy. I went on with my PhD and got a job offer to teach some seminars. The transition from being a student to a teaching assistant and later to an official instructor was not that big because it was in the same environment. I started teaching when I was still a student so I was on the same level as my students. I was officially an instructor and I thought I had to dress differently because I can not look like that. Because you are in the same environment it is a very odd thing to professionalize. Once I realized I was done with my PhD I enjoyed the way of thinking we did in university. I also liked doing intellectual work and being part of an educational institution. I thought where would I go after this? Where would I find this thing that I like doing so much? And I realized that I could not imagine a better place for me than doing this work, I wanted to keep doing this kind of intellectual work."
What did you want to be when you were growing up? Was this career path something you had always envisioned yourself doing?
Prof. Bieger: I studied American Studies, history, and philosophy in Berlin. We had to choose between two majors or one major and two minors, and I was interested in so many things that I thought 'oh I'd rather do three things than two'. American Studies was also the institute where I studied, it was a very interdisciplinary institute with 6  other disciplines. And I got exposed to most of them one way or the other, and so for me, that was the interdisciplinarity of American Studies that was extremely appealing even though I always had a focus on cultural literary studies. I was a TA in the history department, and I always really enjoyed the interdisciplinarity that we have in American Studies because you can basically explore whatever it is that you want to explore.
What has driven you to study and/or work in the field of American Studies?
From the get-go, she had a very conflicted relationship to her object of study, started off as a theatre major, and was looking for something that was more relevant, more political. She did not like the way people studied theatre. She had done an exchange year, and the people around her were really odd but completely in love with the landscape.
If she studied in the US, it will be important and she will gain a good understanding of it. During the years, she was coming to terms with her own love/hate relationship with the country. "A society that influences the life that I lived so profoundly, and knowing this is very useful."
Chloe: I sometimes have a love/hate relationship with American Studies as well, so I agree with you on that.
Prof. Bieger: "There is a misconception that has something to do with our concept of the study, people think you love America just because you study it. If I study German, that does not mean that I love it? But there is something about our object of studying America that people go 'oh she must be really fun' and they tell me: 'Oh you think that America is great' It does not mean that you are a fan of the country, it just means that you are interested in studying it."
Why did you choose to work at the University of Groningen? Any special reason?
Prof. Bieger: "I got a job offer, I applied for the job and they wanted me."
Chloe asks if she immediately got the position of Chair, and Prof. Bieger confirms. She continues on about how she finds Groningen a great place and that she lives in both Berlin and Groningen, describing Groningen as a perfect university city where everything is located close to each other. It only takes her two minutes to get from her house to the seminar rooms. The city's vibe is really nice.
What advice would you give to students who want to teach American Studies courses, or to those who want to keep continuing their research in the field of American Studies?
Prof. Bieger: "Be sincere, be engaged in your studies, in the research that you do, be vocal in what you want, tell your teachers about your ambitions, talk about the feedback of your teachers, try to develop your skills, research, presentation … let your instructors know how eager you are to do this, and of course have good grades."
Chloe: Have you encountered other students who are now working at interesting jobs?
Prof. Bieger: "People end up working in politics, cultural institutions, one former colleague became the director of the German House at New York University." She tells us that not every job is necessarily related to American Studies. Some people work in NGOs, some are journalists, one former colleague became a teacher. He had a promising career track in front of him but thought "nah, I'll become a high school teacher." (which is a great thing!) Prof. Bieger also tells us that not everyone goes to the United States, most people reckon they are more valuable outside America, because you are an expert on the country and can educate others on the matter.
Do you have any exciting future plans that you would like to share with us? Maybe a new topic of research, or an article coming up?
Prof. Bieger: "I am currently working on writing what the political uses of literature are and about the past half year's terrible state that society is in, but the crisis isn't over. I am trying to think about what role literature and the arts could be in trying to solve that crisis and making people change their minds and interact. And these are even more tied to the present developments in the past half year, everything is concerning. I am also thinking about how these things are becoming even more urgent right now, literature and arts."
Iris: You mentioned the elections, and the state of America right now, do you think the AS students should get this in their courses or is it something that you think they should naturally be interested in?
The historical background is important, and teaching is limited so she wants a balance that focuses more on historical background, having a firmer grasp, a more in debt understanding of certain beliefs that go all the way back to founding the institution. "I know you enjoy the more contemporary stuff, we gravitate so strongly to these contemporary issues anyways so the historical background is really important and through this, you can think about the things you are interested in a more sophisticated way."
Iris: In AS, we learn how to critically form arguments, do you think that because of that as students have more of a step up from people that might study something else? E.G. European Languages and Cultures?
Prof. Bieger: "I definitely think that we put a lot of time and effort into teaching you certain skills. Student numbers could increase and this would not be bad, but the small size of the program allows us to work closer with you." The department is very invested in this, Prof. Bieger is very happy to see what our students and their efforts are bearing fruits though, it seems to pay off and that makes her very happy.
Iris: And back to the different career tracks that students could take, you don't see a lot that former students come back to becoming a professor. Is a careertrack of becoming a professor something you hear a lot?
Prof. Bieger: "No, it's not very common. Most do a research master, for example Hanne Nijtmans kept her disciplinary focus. Phd positions in the Netherlands are very hard to get if you did not do a research master, and many people in American Studies who have phd positions, they did not do an MA in American Studies."
Iris: A lot of students are now doing an American Studies MA,  significantly adding to their resumes. And there is now a 'trend' that a bachelor's degree is not enough with regards to university education.
Prof. Bieger wants the American Studies MA to be two years as she believes it is necessary and important to have a longer amount of time to dive into the materials they offer. "It is not necessary to do something else, if you want to go deeper into the material that you know instead of wanting a different MA for your resume. It's very productive to go deeper, rather than starting something new, and therefore doing the MA in the same field as the BA."
Chloe: Are there people who do their masters in America?
Prof. Bieger: "Technically you could but not that I know of, only people who went to study there after their MA. When you do a masters program you have to pay a large fee, it's also a financial issue. Higher education in the US is so expensive that it only makes sense to continue your studies in the Netherlands."
And finally, do you have any advice for American Studies students after their studies?
Prof. Bieger advises students to try and envision what technical transferable skills you possess. "You may not even want or get a job with a strong relation to the United States. Envision what the things are that you are learning; practical thinking, interdisciplinarity. What can you get out of these things and what can you do with them?"